The Highest Standard of Lawn Treatments in Altrincham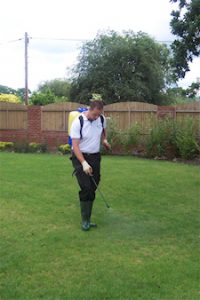 No matter what the season our lawn should always be a source of pride and joy, Emerald Lawn Care has all the right qualifications and experience to transform your turf expectations into a gleaming reality. We have tailor made lawn treatments in Wilmslow to suit every circumstance. At Emerald Lawn Care we pride ourselves in being expert when it comes to all things grassy. Whether you need a lawn feed in Altrincham, a moss killer in Wilmslow or just require a good lawn feed and lawn weed killer – Emerald Lawn Care has the key to your garden happiness.
Choosing the Right Lawn Treatment in Wilmslow for You
Why choose Emerald Lawn Care to nurture your grass to shining vitality? The answer is simple – we offer the best service at competitive rates and all with a friendly, trustworthy manner which has made us a favourite with many happy customers. Not forgetting the fact that our lawn treatments in Altrincham have absolute success. Deep, emerald green lawns bursting with health are our hallmark. It is no wonder then, that our lawn treatments in Wilmslow are so popular.
Clean, Green Moss Killer in Altrincham
We at Emerald Lawn Care can truly provide an effective yet gentle moss killer in Wilmslow. Moss is one of the fiercest enemies to any aspiring lawn and must be dealt with quickly and thoroughly, but not to the detriment of other shrubs, flowers and foliage round about. We make use of the very best system of moss killer in Altrincham, deeply removing the causes of moss whilst ensuring the surrounding grass is cared for and is not traumatised into recession.
One of the facets of our lawn treatments in Altrincham is that of power scarification; this along with skilful lawn fertilizer and lawn weed killer is all essential in the battle against moss. A really thorough moss killer in Wilmslow will make good use of scarification – a process which deeply rakes through the grass and brings the root of problems such as moss and thatch to the surface where it can be safely and systematically taken care of. For more information on how our moss killer in Altrincham can benefit your garden please feel free to give us a call! We will be happy to answer any questions you may have about this and our lawn treatments in Wilmslow.
The Best Lawn Feed in Wilmslow
There is no argument that lawn fee in Altrincham is of extreme importance for a vibrant green grass which is bristling with vitality. It is because of this that Emerald Lawn Care has invested in the very best quality lawn feed in Wilmslow. However, more than just lawn feed in Altrincham in required. There is no substitute for knowledge, skill and understanding and here again the team at Emerald lawn care excel. Through the years we have built up a wealth of experience giving us the needed wisdom. We know not just what lawn feed in Wilmslow to use but also when to apply to yield best results as well as just how to use it. So yes, a good lawn fertilizer, lawn weed killer and lawn feed in Altrincham is important but even more so is having the right person apply it.