Lawn Treatments in Nantwich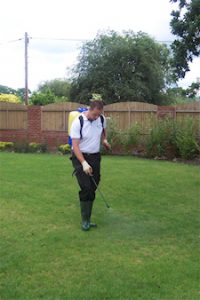 It can truly be said that a smooth, lush, piece of grass, is one of the most beautiful and inviting sights. A flawless green lawn epitomises the essence of a comfortable home setting. It can also be the perfect finishing to a beautiful piece of architecture or it can give a place of business a personal, warm appeal. If you have tried to achieve this, though, you will be aware that a wonderful green lawn isn't easily accomplished. Chances are that anyone who has one, probably owes their success to professional lawn treatments in Nantwich. Emerald Lawn Care is one of the leading providers of lawn treatments in Nantwich. Why not read more to find out the reason why our lawn treatments in Nantwich have built up a loyal customer base?
Weed Control in the Hands of Experts
Our lawn care in Nantwich includes far more than a sprinkling of fertilizer and spritzing of weed killer. Good lawn care in Nantwich does take into account weed control but does so in a responsible way. The products we use for weed control are effective enough to eliminate unwanted weeds but gentle on the surrounding grass. You won't be left with ugly brown blotches blighting your lawn.
As with everything, when it comes to feeding the grass, timing is key. Applying a layer of fertilizer at the wrong time can do more harm than good and may even result in killing your lawn. The team from Emerald Lawn Care in Nantwich work in harmony with the seasons, providing the needed care at the appropriate time. This approach makes sense and leaves your grass glowing with health.
Convenient Lawn Treatments in Whitchurch
If you have previously considered lawn treatments in Whitchurch but haven't known who to turn to for this service, why not give Emerald Lawn Care in Whitchurch a call. We operate on an affordable and convenient basis. We can arrange a mutually convenient appointment, you don't need to be at home, but if you prefer it this can be organised too. Our lawn treatments in Whitchurch are also very affordable. As each garden is unique our pricing is based on its individual needs. At the moment we have an online offer of 25% off your first lawn treatment.
Professional Lawn Care in Whitchurch
If you would like to know more about Emerald Lawn Care in Whitchurch please feel free to call us. Alternatively, fill out our online 'contact us' form and we can get in touch with you for a free quote.