Lawn Treatments in Sandbach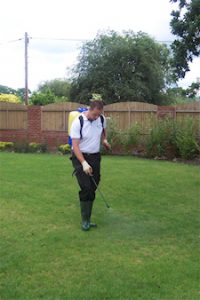 In the middle of winter when your garden is covered by a thick layer of frost it may seem that the need for lawn treatments in Sandbach is still a long time away. Any expert will tell you that a lawn is much like a composite, living, breathing thing. Like trees which 'go to sleep' in the winter or other creatures which hibernate, a lawn doesn't die over the winter months but merely waits for the spring to come. This means that like other living things it needs attention all year long, albeit a small amount during the colder months. Having said this, you may be wondering what lawn treatments in Sandbach can do for your lawn between November and February.
Winter Lawn Care in Sandbach
Your winter lawn care in Sandbach should include a light trimming during warmer spells (just a few warm days can trigger a growth spurt), a careful check on moss and general weed control. Good lawn care in Sandbach requires all year round attention; applying the appropriate treatment in harmony with the grass' natural growing schedule and the needs of the lawn at the time.
Timely Lawn Treatments in Holmes Chapel
Creating a programme of lawn treatments in Holmes Chapel requires a professional understanding on each type of grass, the environment best suited to each type, as well as the other organic vegetation which is known to grow alongside the different grasses. This enables us to provide your lawn with precisely the right nutrients at the right time. It also allows us to provide the proper preventative measures against unwanted plants popping up in your nice smooth lawn. Weed control is an important aspect of our lawn treatments in Holmes Chapel. Our weed control is intuitive, effective and it is also completely safe so it won't leave you with unsightly blotches on your lawn.
Affordable Lawn Care in Holmes Chapel
You may feel that lawn care in Holmes Chapel is a luxury you can't afford. We are here to tell you that this is not the case. Obviously, each case is different and our quote is based on size of lawn etc. What we can assure you of is that everyone deserves to have a beautiful, smooth piece of turf to enjoy. Our lawn care in Holmes Chapel won't cost you more than a few pounds a week and the results are well worth every penny you spend.