Superior Lawn Treatments in Northwich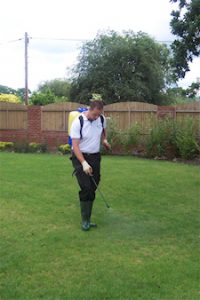 Welcome to Emerald Lawn Care! We are a professional, independent team of lawn care specialists; we are skilled in providing lusciously green lawn face lifts. Our lawn treatments in Northwich are comprehensive; inclusive of all the elements needed to give you soft, healthy carpet of grass. Emerald Lawn Care's lawn treatments in Northwich are available for the upkeep and rejuvenation of domestic and commercial lawns.
The Very Best Lawn Feed in Knutsford and Lawn Feed in Northwich
An attractive lawn can bring so much enjoyment and beauty to a home. When contemplating the best way to boost the vitality of their grass most people hit on the idea of an application of lawn feed in Knutsford. They're not wrong; the right nutrients are essential to the production of a healthy turf but it is not the sole solution. A good lawn feed in Knutsford needs to be coupled with skill and knowledge – knowing when to apply the feed is as important as the feed itself. Elements such as the right lawn fertilizer and lawn weed killer also need to be taken into account. We at Emerald Lawn Care have precisely the needed expertise and experience to ensure fantastic lawn feed in Northwich which means your grass will soon be a thick and gleaming gem of a lawn.
More is Needed than Just Moss Killer in Northwich
Over the years the team at Emerald Lawn Care, as part of our lawn treatments in Northwich, have earned the reputation of being the most formidable moss killers in Northwich. Seriously though, moss is no joke and a lawn infested with the stuff is enough to bring even the bravest of gardeners to tears. Fortunately we have just the right formula which ensures a long lasting moss killer in Knutsford and Northwich.
The presence of moss is usually indicative of an ailing lawn rather than the cause of it. Because of this we aim to treat the reason behind the moss as well as providing moss killer in Knutsford. Not only is the eradication of the moss important but so too are the following steps which are part of our very successful lawn treatments in Nortwhich ensure that it doesn't return.
Scarification, Weed Killing and Lawn Treatments in Knutsford
It is during the season of autumn that the all important groundwork for effective lawn treatments in Knutsford is begun. This includes processes such as power scarification (a key step in process of moss killer in Knutsford). Power scarification is also known as mechanised raking; the scarification machine looks much like a short lawn mower and is fitted with sharp blades which revolve at a very fast rate. Regular scarification has numerous benefits, such as effective mould and thatch removal it is also a primary moss killer in Northwich and Knutsford. After the scarification process we also utilise a first rate lawn fertilizer and lawn weed killer, this all contributes to a good growing foundation for both this year and the next.
If you would like any more information on lawn fertilizer, lawn weed killer and the absolute best lawn feed in Knutsford please feel free to give us a call!